December 2021
12/7/2021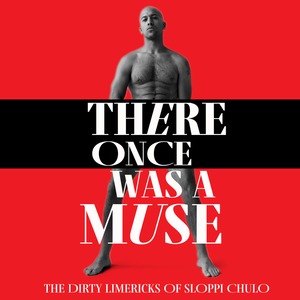 December 12, 2021 - Since one of my favorite life-drawing models, "Sloppi Chulo" a.k.a. Gabriel, has also become a prolific writer of Dirty Limericks, he teamed up with Kyle Anderson of the "Doable Guys" Drawing Group to produce a new chapbook called "THERE ONCE WAS A MUSE...". I'm happy to say that I have 2 artworks in this artistic and hilarious book of poetry and art, with images from 27 artists, available for a mere $12. on DoableGuys.com! Also, this Sunday, 12/12/21 from 5:30 to 6:30pm there will be a Poetry Reading and Q&A with poet/model Sloppi at the LGBT Center (on the 2nd Floor at BGSQD) where the books will be for sale & the Event will be livestreamed. Click the image for for info. Come check it out!
---
Summer 2021
6/24/2021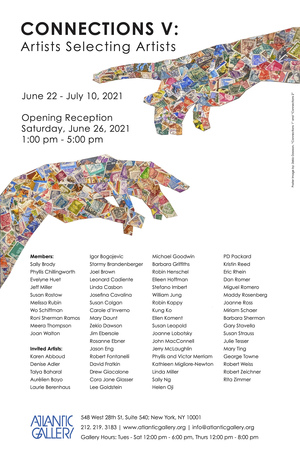 Summer 2021 - I'm so happy that NYC is slowly returning, and therefore was pleased that my friend Jeff Miller asked me to submit two small works to this "Connections" group show that opens this weekend! And, I can invite people! As many places are doing now, visitors who have been vaccinated are welcome to come and not wear a mask.

I'll have two framed gouache watercolor landscapes on display, please come see!. I'll be at the opening Sat., June 26th, from 2:30 - 5pm.

The Atlantic Gallery in West Chelsea, 548 West 28th St., Suite 540, in between 10th & 11th Aves. The show is up until July 10th, open Tues - Sat, noon to 6pm (thursdays til 8pm).
---
Spring / Summer 2021
6/22/2021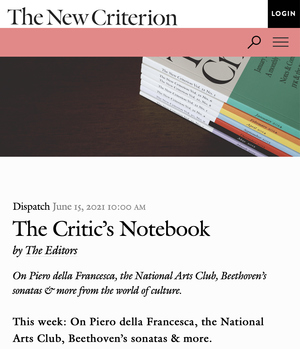 Summer 2021 - Writer James Panero of The New Criterion has included "Painting the Narrative" at The National Arts Club as a "Critic's Pick"!

Click on the image to be linked... the show's last day is 6/28 - go to www.nationalartsclub.org/exhibitions for more info
---
Spring / Summer 2021
5/1/2021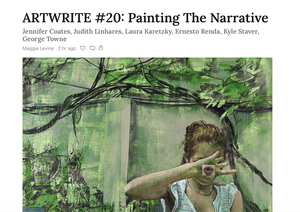 Spring / Summer 2021: It's always a blessing for a visual artist to have a talented arts writer spend time speaking with them about an upcoming show and what drives them to make the artwork they make. So, I couldnt have been more pleased to learn that Maggie Levine of the new-ish bi-weekly arts newsletter/blog "ARTWRITE" was going to do an issue devoted to Narrative Painting, in which each artist of the group show I'm about to be in at The National Arts Club is featured. It just came out today, please check it out! (Click the image to be linked to the ARTWRITE site).
---
Spring / Summer 2021
4/25/2021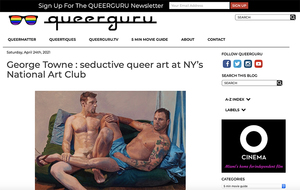 Spring / Summer 2021: I got a shout-out from the "Queerguru" blog, helping me promote my participation in the upcoming group show "Painting the Narrative" at The National Arts Club next month... click the image to go to the link!
---
Spring / Summer 2021
4/13/2021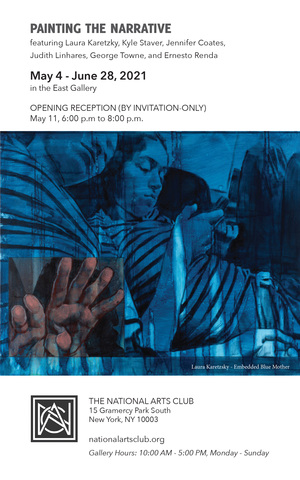 Spring / Summer 2021: I will be in an upcoming group exhibition at The National Arts Club called "Painting the Narrative", curated by Dee Shapiro. She's chosen three of my paintings, one from 2008, another from 2011, and another from 2015 to be a part of a six-person show that examines contemporary ideas about Narrative Painting in the newly renovated East Gallery of the Club.

The show also features the work of Laura Karetzky, Kyle Staver, Jennifer Coates, Judith Linhares, and Ernesto Renda. It will be on display from May 4th through June 28, and gallery hours are 10am-5pm, Monday through Saturday at 15 Gramercy Park South.

Click on the image to be linked to the National Arts Club's Exhibitions page to read about the social distancing guidelines and call-ahead reservation options, and please, come check it out!
---
January 2021
1/2/2021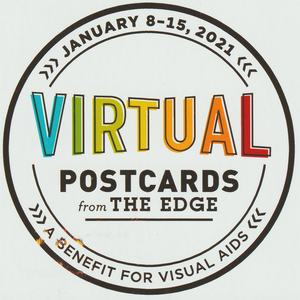 January 2021: Happy New Year everyone!! I will again have an artwork in this year's "Postcards From The Edge" show, hosted by VISUAL AIDS... this year of course they are having it be a "Virtual" Event, due to the Coronavirus and the need for social distancing. But click on the image to be linked to the VA site, and read how you can view all artworks starting Friday, 1/8/21 at the V.I.P. Preview from 6-10PM, and then sales will start Saturday 1/9 and go through 1/15, first-come-first served.