January 2020
12/31/2019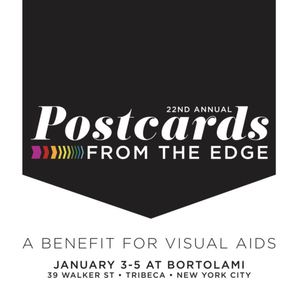 January 3-5, 2020 - Happy New Year, everyone! As with most years, I am participating in this year's "Postcards From The Edge" Benefit for Visual AIDS. This year it will be held at Bortolami Gallery down in Tribeca. I will be at the Artist Preview Party on Friday from 6-8pm, come say Hi & see if you can guess which artwork is mine! Admission for the Friday nite party is $100. unless you are a participating artist, money raised goes towards Visual AIDS programming... for a full explanation of details click the image to be linked to the Visual AIDS site. Hope to see you there!
---
November - December 2019
11/26/2019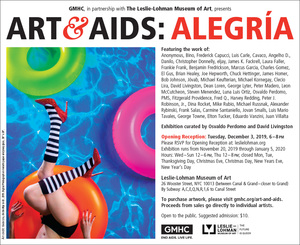 November/December 2019 - As far as exhibitions, I'm happy to be finishing out the year in this cool group show called Art & AIDS: Alegria at the main LeslieLohman Museum space down on Wooster/Grand street! The curators have chosen three portaits I've done recently... it's a show of artists involved with GMHC, and although it's about HIV & AIDS, it focuses on the aspect of "celebrating life" (Alegria). The show is already up and will be on display until Jan. 5, 2020. The opening reception will be next tuesday, 12/3, from 6-8, please come! Click on the image for further info.
---
Fall 2019
11/18/2019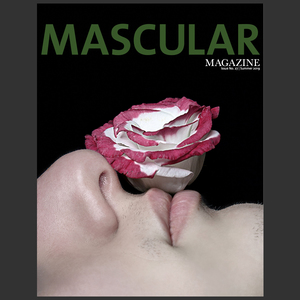 Fall 2019 - some cool news, I have 5 spreads of work in an art jounal / publication called "Mascular Magazine"! It's latest issue is called "Flora" and it features paintings of mine that feature mostly "Outdoor settings (and a Peony)". You can download the whole issue for free at www.mascularmagazine.com (also, click the image to be linked to the site)!
---
September 2019
8/15/2019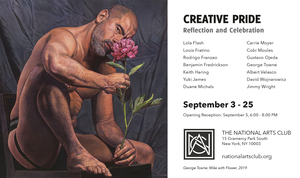 September 2019: Very excited about this upcoming group show at the National Arts Club, opening reception slated for Thurs., Sept. 5th, from 6-8pm! It's called "Creative Pride: Reflection and Celebration", curated by Robert Yahner. Turns out they were able to use my painting, "Mike with Flower" for the invite image !

From the press release: "In honor of the 50th Anniversary of the 1969 Stonewall Riots that sparked the Gay Liberation Movement, The National Arts Club is proud to present Creative Pride. Celebrating the vision and talent of the LGBTQ Community, this special exhibition will include works by Keith Haring, Louis Fratino, Duane Michals, Jimmy Wright, Carrie Moyer, George Towne, Yuki James and others. Tribute will also be paid to National Arts Club Medal of Honor recipients Tennessee Williams, Allen Ginsberg and Leonard Bernstein for their landmark contributions to American culture."

Also included are some other faves of mine like Benjamin Fredrickson, Lola Flash, Cobi Moules, Albert Velasco, and others, even including work by the late, great David Wojnarowicz. The show will be up until 9/25 at 15 Gramercy Park South - please come check it out! (Click the image to link to their site).
---
July 2019
7/10/2019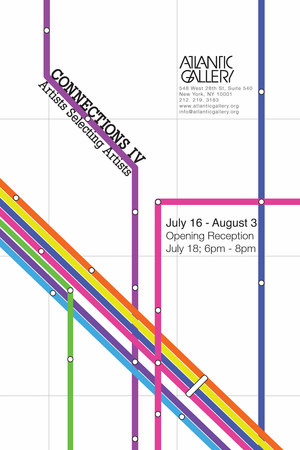 July 2019 - Happy to announce that I'll have two new small works, both landscapes, in a group exhibition at the Atlantic Gallery in Chelsea this month. "Connections IV: An Invitational Exhibition of Artists Selecting Artists" will have an opening reception Thurs. July 18th from 6-8pm at 548 West 28th St, Suite 540 in West Chelsea, and the show will be on display until August 3rd. Come to the opening and say Hi, or check out the show during it's run if you are able! (Click on the image to be linked to the gallery website, or visit www.atlanticgallery.org ).
---
June 2019
6/25/2019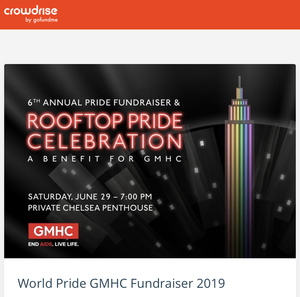 June 2019 - Happy Stonewall 50 / World Pride, everyone!! In order to help in the effort of GMHC to make their goal for their Rooftop Pride Celebration Fundraiser on 6/29/19, I'm donating one of my sexy male figure drawings as a raffle prize. The winner of the prize will be able to choose one drawing from a selection of 15 I've set aside. If you're in the area, come to this cool event to celebrate with us this Saturday, or if you're out of town - please consider making a donation at the link below - hit the image to be linked to their "Crowdrise" page (any amount is appreciated !)
---
February / March 2019
2/7/2019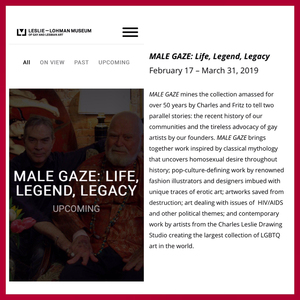 February / March 2019 - Happy to announce that I'll have an artwork in this show called MALE GAZE of art from the collection of the founders of The Leslie Lohman Museum of Gay & Lesbian Art ! Open to the public from 2/17 to 3/31 in the Wooster Street Museum space, full details at www.leslielohman.org (or click on the image to be linked).
---
February 2019
1/23/2019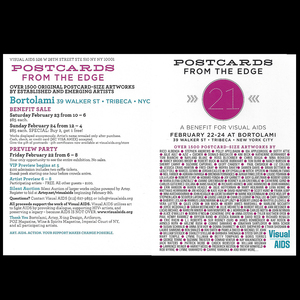 February 2019 - Save the date for the 2019 "Postcards From The Edge" Benefit weekend for VISUAL AIDS! As usual I've created a postcard-sized oil painting, as did hundreds of other artists... signed on the back so you have to guess who's is who's. This year it will be at a gallery down in Tribeca called Bortolami. The Preview Party (Friday 2/22, 6-8PM) is always a blast to see all the participants and all the work on the walls - so if you can make it, try to go then. If not, the sales happen the rest of the weekend on Saturday & Sunday... click the image for the website & all the info. Hope to see you there !