December 2016 - January 2017
12/18/2016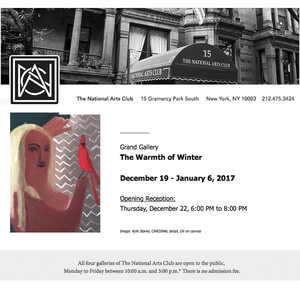 December 22nd, 2016 - January 6th, 2017 - A nice way for me to end the year will be inclusion in this group show at The National Arts Club called "The Warmth of Winter", which highlights winter-themed works from over 50 artists. I was able to do a new oil painting / urban landscape that made it in the show - please come and check it out at the opening on Thursday the 22nd from 6-8pm! The Club is at 15 Gramercy Park South between Park Avenue and Irving Place, (click on the image to be linked to their website).
---
December 2016
12/18/2016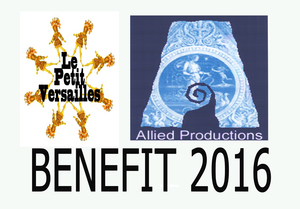 December 21st, 2016 - I have a drawing in a Silent Auction benefitting the two edgy East Village art organizations "Allied Productions" and "Le Petit Versailles"; and there is an event where the auction culminates on Wednesday, Dec. 21st at the Howl Happening Gallery (6 East 1st St between Bowery & 2nd Ave). Click the image for a link to the info & where you can find another link to the 'Bidding Owl" Online Auction. Should be a great time with fun performances!
---
December 2016
12/18/2016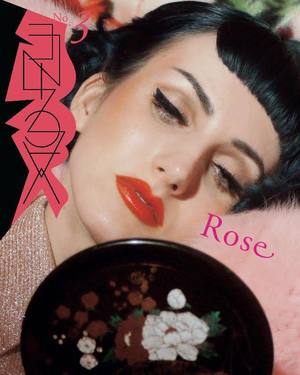 December 2016 - Happy to have two paintings in a full spread in the latest issue of Vaczine Art Journal!! Another gorgeous issue curated and compiled by the ever-tasteful Walt Cessna, featuring top-notch magazine design from 'Art Dictator' Frank Gargiulo. Got to stop by two fun premiere events for it's debut, at Eastern Bloc on Thursday nite and at the Bureau - BGSQD at the Gay Center last nite (where you can buy this issue). Check it out if you can! (Click on the Image to go to Vaczine's Tumblr Blog).
---
December 2016
12/10/2016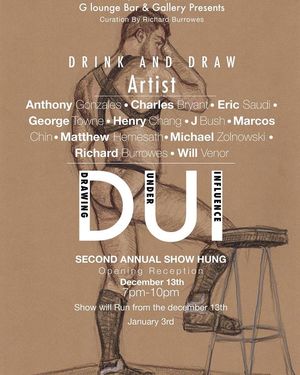 Hi all - if you're around Tuesday night, stop by the G Lounge Bar and Gallery to check out the opening Reception of the bar's 'Drink 'n Draw' artists' show "D.U.I. - Drawing Under The Influence" from 7-10PM, curated by Richard Burrowes. I'll have 8 drawings on display, and the show has notable artists such as Anthony Gonzales, Henry Chang, Marcos Chin, Will Varner, and Michael Zolnowski, among others (including Richard). G Lounge is at 223 West 19th St in Chelsea, in between 7th & 8th Aves. The show will be on display throughout the Holiday season until January 3rd. (Also grateful to see he was able to use a drawing I did of the sexy James Alexander from London on the show's invite!) Hope to see you there!!
---
October 2016
9/13/2016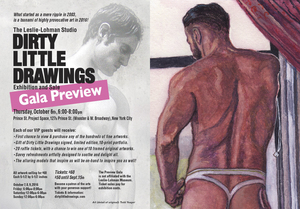 October 6-9, 2016 - Friends, and (Erotic) Art Lovers... I am pleased to announce that I will be a part of this year's new installment of "Dirty Little Drawings" at the Leslie-Lohman Museum's Prince St Project Space in October! For those seriously interested in having a chance at possibly purchasing a piece, the "Gala Preview" party night on Thursday, October 6th is a must. And – although tickets for that night are being sold for $60, the "Early-Bird" ticket price of $50. is only available until September 15th, so to get that, follow this link ASAP (click on the image to be linked to the info). Hope to see you there! (Image on the left is from Todd Yeager... the watercolor on the right is a (cropped) version of one of my Dirty Little Drawings from this year. I will be posting more about this soon !
---
September 2016
8/29/2016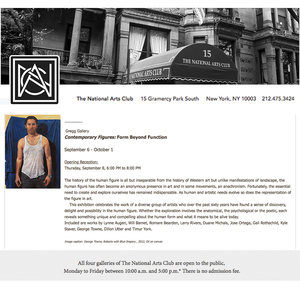 September 2016 - I'm pleased to announce that I have a painting in another group exhibition in the National Arts Club in September! The show is called, "Contemporary Figures: Form Beyond Function", curated by Robert Yahner, and it runs from 9/6 - 10/1/2016. The show has about 12 artists; also included are a few big-names such as Duane Michals, Will Barnet, Romare Bearden, Larry Rivers and Kiki Smith. I was incredibly flatted to hear that the Club is using my painting, "Roberto with Blue Drapery", to promote the show! The galleries are open Mon-Fri, from 10am to 5pm at 15 Gramercy Park South (a.k.a. 20th Street between Park Ave & Irving Place), no admission fee. There is an opening reception on Thursday, Sept. 8th from 6-8PM, please stop by if you can. (Click on the image to go to the National Arts Club's website).
---
June 2016
5/30/2016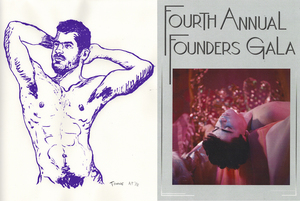 I'm happy to be on the Host Committee of the "Fourth Annual Founders Gala" of The Leslie-Lohman Museum of Gay and Lesbian Art, and to have donated a Silkscreen Print for the Live and Silent Auction. It's Thursday, June 9th at the Museum on 26 Wooster St from 6:30-9PM.

I did the print this past year and it's called "Sam Devries, Brush Drawing Silkscreen", based on a life drawing I did of Sam at the Leslie-Lohman Erotic Drawing Studio. It's in a frame approx. 21" by 17" and bidding starts at $200. with $25 bid increments.

The Event features a performance by the creative genius John Kelly, and tickets can be purchased at the Leslie-Lohman site, click on the Image above to be linked. You can also be linked to bid on the print online, until the day of the event.

Please come check it out, and if you can, support the Museum!!
---
January 2016
1/18/2016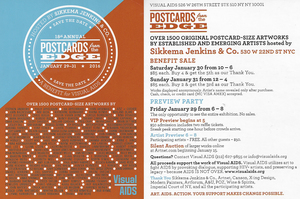 January 29, 30, & 31, 2016 - Mark your calendars! For many years I have participated in the terrific benefit for the organization Visual AIDS called, "Postcards From The Edge". I missed it last year, but I got a really nice one done for this year's Event, which will be at the Sikkema, Jenkins & Co. Gallery (530 West 22nd St) at the end of the month. Artists donate an artwork done on a postcard, they sign the back only, & people only know for sure who did it after they purchase it. The Opening night (Friday the 29th) there are no sales, it is just to scope out the available works and socialize, ($50. entry fee unless you donated an artwork). Then, Saturday morning people line up to be the first to purchase the artworks for $85. each., doors open 10 AM. Sales go through Sunday at 4PM, & then continue online afterwords at www.visualaids.org. Come check it out & support this great organization! (Click on the image to be linked to further info at the Visual AIDS site).