December 2013/January 2014
12/21/2013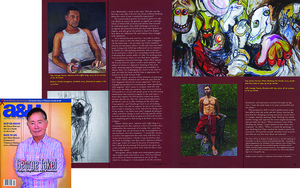 December 2013 - January 2014 - I'm very psyched that the latest issue of A&U ("Art & Understanding") Magazine (the Dec 2013 Issue with Star Trek's George Takei on the cover - Oh my!, lol) has a feature about the group show at Leslie-Lohman Museum and there's not only a nice color spread featuring two of the paintings I'm showing, but two paragraphs about me waxing poetic about being an openly HIV Positive artist (HaHa). This is a scan I got of it, but if you'd prefer to check out the online version, click on the photo and you will be linked to it. Thanks again to the show's curators Osvaldo Perdomo & David Livingston as well as the awesome writer Angela Leroux-Lindsay and A&U's Chael Needle !
---
December 2013/January 2014
12/11/2013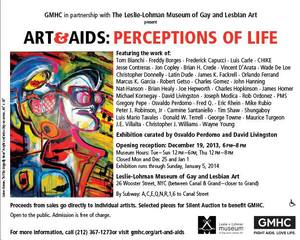 December 2013/January 2014 - The Invitation is back from the printers for the GMHC Art Show at Leslie Lohman Museum! The show is called "Art and AIDS: Perceptions of Life", it's at the Leslie Lohman Museum of Gay and Lesbian Art, 26 Wooster St, NYC (near Canal). The Opening Reception is Thursday, Dec. 19th from 6-8PM, and the show runs until Sunday, January 5th 2014. Museum Hours are Tues-Sun 12PM-6PM, Thu 12PM-8PM (closed mondays and Dec 25 and Jan 1). I will have 4 Oil Paintings from 2013 in the show. Click on the image to be linked to the Museum's Website (www.leslielohman.org). Hope to see you there !
---
November 2013
11/20/2013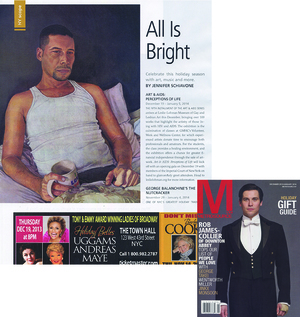 November 2013 - Nice to see that Metrosource Magazine has included a nice JPEG of my painting "Adriano with Coffee Mug" in the latest issue (Dec.'13-Jan.'14, page 64, with the Downton Abbey cover)... Which will be one of the four paintings of mine that will be in next month's GMHC Group Show at LeslieLohman Museum that opens December 19th. Thank you Metrosource !
---
November 2013
11/16/2013
November 2013 - Upcoming Group Exhibition participation... I will again be a part of the GMHC Artist's Exhibition at the LeslieLohman Museum of Gay and Lesbian Art! This year's theme will be "Art & AIDS: Perceptions of Life", and the show will open with a Reception on Thurs, Dec. 19, 2013 from 6-8PM, and will close on Sunday, January 5th, 2014. I am slated to exhibit four paintings... more to come as the info develops, and I will try to link you to additional info when it is up online.
---
August 2013
8/18/2013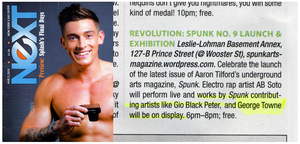 August 2013 - "Next Magazine" gave me & the Spunk Magazine Launch a Shout-out last week, WooHoo!
---
August 2013
8/1/2013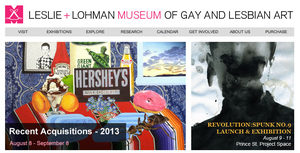 August 8&9th, 2013 - Great news - I am not only going to be in one, but two group shows at LeslieLohman Museum next week!
Opening Thurs. 8/8 - I will have a piece in the "Recent Acquisitions" show at the Main Museum Space at 26 Wooster St near Canal from 6-8PM (a collector, Earl Carlile, donated my 2002 painting of Congressman Barney Frank to the Permanent Collection!). This show will be on display until Sept. 8.
Then, Opening Friday, 8/9 - I will have two paintings at the Museum's "Prince St. Project Space" at 127-(BSMT) Prince St. near Wooster from 6-8PM at the Launch Party for the recent issue of "SPUNK" Magazine, (No. 9), of which I am a contributor! This show is only on display the two days following this Event from 12-6PM.

Click the Image to be linked to the Museum's Calendar info page about the Events, and visit http://spunkartsmagazine.wordpress.com/ for more info about the SPUNK Event (buy the issue from the site or at the party for $9. - limited edition of 400!)
---
July 2013
7/3/2013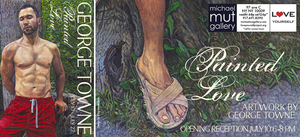 July 10th, 2013 - The Card / Invitation for my Solo show at Michael Mut Gallery is back from the Printers! Here is the Front & the Back, with Card Design by Klay-James Enos. Also, the Gallery now has the show listed on it's main page, click on the Image to be linked to the Michael Mut Gallery site! (And, if you're on Facebook, please look up the Gallery & "Like" the Gallery on Facebook, Thanks!)
And - don't forget, the Opening!! : "Painted Love: Artwork by George Towne" at Michael Mut Gallery, 97 Avenue C (near 7th St.), Opens July 10th, 2013 from 6-8PM, (and runs thru 7/27/13. Hrs. Wed-Fri 4-8PM, and Saturday 12-6PM).
---
June 2013
6/14/2013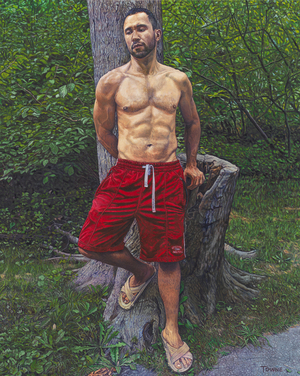 The gallery now has the upcoming show listed on it's site! Either visit the page at www.michaelmutgallery.com or click on this painting of "Ricardo With Tree" to be linked to it!
(My Solo Exhibition, "Painted Love: Artwork by George Towne" Opens July 10th at Michael Mut Gallery, at 97 Avenue C near 7th Street in Manhattan, & runs till July 27th... Save the Date!)
---
May 2013
5/28/2013
The Press Release for my upcoming show is here! It reads:
Painted Love
Artist George Towne July 10th – 27th, 2013
Opening Reception: Wed., July 10th, 6-8pm
Contact: Michael Mut 212.677.7868
michael@michaelmutgallery.com
Hours: ! Wed–Fri 2–6PM, Sat noon–6PM some Sundays during the summer
Location: 97 Ave C between 6th and 7th Sts, East Village/L.E.S. Transportation: F,V to Second Ave; L to First Ave; 6 to Astor Place; M9 Bus
For Immediate Release
Painted Love: Recent Artwork by George Towne
"And you think love is to pray, but I'm sorry I don't pray that way" – Marc Almond/Soft Cell
The Michael Mut Gallery is pleased to present George Towne's third solo show.
The show's title, "Painted Love", is a play on words alluding to the 1981 song "Tainted Love" sung by Soft Cell's Marc Almond, which became a well-known Anthem for the Gay Community with lyrics like "I give you all a boy could give you".
The song also refers to ways of praying. For Towne, Painting has allowed him to develop spirituality around his art making process; he lights a candle that slowly burns as he works, and laying out his palette of color has become a devotional act for him, much like traditional prayer and meditation. The love of his process is carried through into his subject matter in Towne's summer show at Michael Mut Gallery.
A portrait of one of the artist's former boyfriends holding a coffee mug sports the words, "I love you". Towne also continues to explore both Portraiture and Landscape, with two works combining both subjects in stark detail. A man sitting on an urban park bench allows his highly rendered plaid shirt to fall open. Another image depicts a full figure portrait of a man wearing only bright red running shorts leaning against an old tree, providing the viewer with a sexual charge. Other images, which seem at first glance to only be Landscapes, are enhanced with the knowledge that they depict areas of Fire Island's notorious cruising ground, The Meatrack.
George Towne has had Solo shows at Michael Mut Gallery in Manhattan, The Barbara Ann Levy Gallery in Fire Island, NY, and at The Delaware Valley Arts Alliance in Narrowsburg, NY. He has been in numerous group shows; recent venues have included the Leslie-Lohman Museum of Gay & Lesbian Art, the Forbes Galleries in New York, and Kymara Gallery in Maine. His work has been written about in publications such as American Artist, A&U: Art & Understanding Magazine, Time Out New York, and Next Magazine. Art of Man, a Quarterly publication, featured him in its Winter 2012 Issue (#11).
---
May 2013
5/25/2013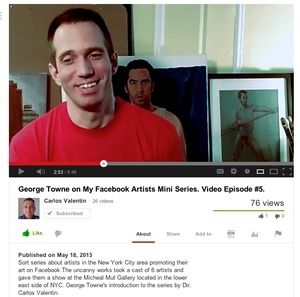 May 2013 - I just found out I'm on Youtube! A little video of me from 2 years ago - my friend, Director Carlos Valentin of 'The Uncanny Works' made a little video of me getting ready for my 1st Solo Show at Michael Mut Gallery in Spring 2011. It's very nice & Nostalgic for me to see this now, as I prepare for my 3rd Solo show there, opening this July 10, 2013! Good memories. (He caught the full glory of my awkwardness with on-camera speaking & nervousness/anxiety about the show, LOL!) Click the Image to be linked to the Youtube page
---
May 2013
5/15/2013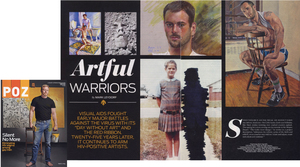 May 2013 - Cool news, I am very Grateful to writer Mark Leydorf and Editors of Poz Magazine for including a nice JPEG of my painting "Eric Seated, Chair, 2012", in the June 2013 Issue! It is included in a great article that Leydorf wrote about "Visual AIDS" celebrating their 25th year of existence. I am mentioned in the article too... here's the blurb: "Meanwhile, VA has developed it's Artist Registry, a virtual gallery that memorializes trailblazers who are gone and that nurtures a growing army of artists who are very much alive. Oils by George Towne rub shoulders with the Lethal Weapons series by Barton Lidice Benes and with fuck-yous from David Wojnarowicz". Thanks, Mark & Poz Mag! (Click on the Image to get linked to the article).
---
March / April 2013
3/15/2013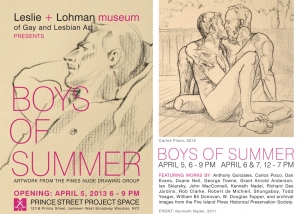 April 5, 6, & 7, 2013 - If you like either Fire Island, nude guys, or sexy art openings, then this group show of 16 artists is for you! I'll have a few artworks in this fun show of artists that have drawn with the "Pines Nude Drawing" group which has gone on the last two summers in Fire Island. Opening Fri. nite 4/5/13 from 6-9PM at the Leslie/Lohman Museum's "Prince Street Project Space" at 127-B Prince Street in Soho (near Wooster), it continues on Sat. 4/6 and Sun. 4/7 from 12-7pm. Come on down for a good time! (Click on the Image to be linked to www.pinesnudedrawing.com)
---
February 2013
2/22/2013
February 2013 - Two upcoming shows are "in the works"...
I'm grateful to be having yet another Solo show at Michael Mut Gallery this coming July 2013 (tentatively titled "George Towne: Painted Love"). (see: http://michaelmutgallery.com/ )
Also - I will be a part of a group show of about 13 artists that have drawn at the Fire Island Life Drawing Group called "Pines Nude Drawing" (see: http://pinesnudedrawing.com/ ), which will be displayed here in New York at the Leslie/Lohman Museum of Gay & Lesbian Art's "Annex Gallery" on Prince Street the first week of April. (see: http://leslielohman.org/index.html )
I will post more about these as the information is available - hope to see you at these two Events! - George
---
January 2013
1/22/2013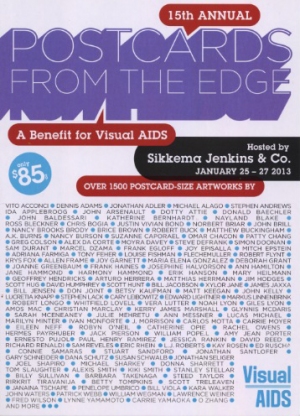 January 2013 - It's that time of year again! Every year I do a Postcard-sized oil painting for the great benefit for the fantastic organization called "Visual AIDS". It's this weekend! The Preview Party (which is $85. to get in unless you donated an artwork) is this coming Friday nite 1/25/13 at Sikkema Jenkins Gallery, 530 West 22nd St. from 6-8PM. Then the Sale of the Postcards begins Saturday at 10AM and ends Sunday at 4PM. Click the Image to be linked to the site for more details about how to come see & support this cool Event!