NEWS / EVENT BLOG ITEMS - SCROLL DOWN TO VIEW ALL
7/13/2022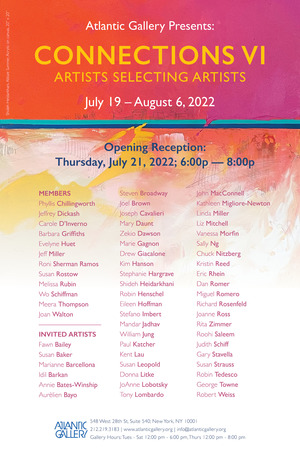 July / August 2022 - You're invited to this group show I have a painting in, opening next week! It's called "Connections VI", and it's at Atlantic Gallery, 548 West 28th St., #540, NYC. Opening Reception is July 21st from 6-8pm, and it's on view until August 6th. Gallery Hours are Tues - Sat from 12-6pm, and Thursdays they're open until 8pm. Click the image to be linked to the website. Come check it out!
---
June 2022
5/20/2022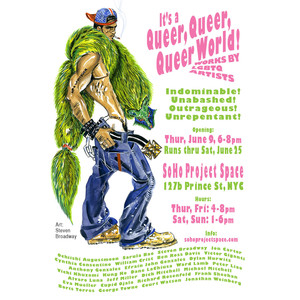 June 2022 - Here is the Invite for a group show I'll be included in at The Soho Project Space, a gay pride invitational exhibition called "It's a Queer, Queer, Queer World!". It includes "over 25 Outstanding, Outrageous, Unabashed, Unrepentant LGBTQ In-Vogue Artists!" Opens June 9th from 6-8pm, through June 25th, with gallery hours Thursdays through Sundays. The gallery is located at 127b Prince Street, NYC. Invite image by Steven Broadway. Click on the image to be linked to the gallery website. Mark Your Calendar!
---
January 2022
1/5/2022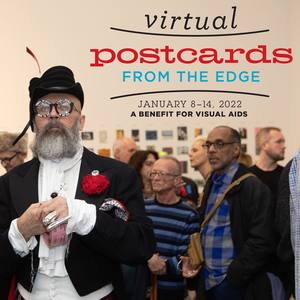 January 2022 - Happy New Year everyone! As many of my New Years begin, I am participating in this year's benefit for Visual AIDS's "Postcards from the Edge", which is this weekend, and it will again be Virtual instead of in-person. Head on over to their site (click on the image to be linked) to find out about the VIP preview on Friday evening, 1/7/22, & the sale of the postcards on Saturday 1/8 and Sunday 1/9. Of course, also check out: www.visualaids.org to learn about the organization.
---
December 2021
12/7/2021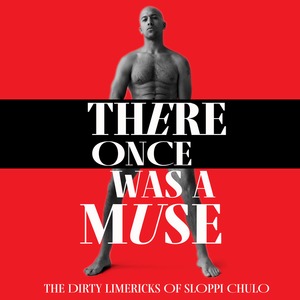 December 12, 2021 - Since one of my favorite life-drawing models, "Sloppi Chulo" a.k.a. Gabriel, has also become a prolific writer of Dirty Limericks, he teamed up with Kyle Anderson of the "Doable Guys" Drawing Group to produce a new chapbook called "THERE ONCE WAS A MUSE...". I'm happy to say that I have 2 artworks in this artistic and hilarious book of poetry and art, with images from 27 artists, available for a mere $12. on DoableGuys.com! Also, this Sunday, 12/12/21 from 5:30 to 6:30pm there will be a Poetry Reading and Q&A with poet/model Sloppi at the LGBT Center (on the 2nd Floor at BGSQD) where the books will be for sale & the Event will be livestreamed. Click the image for for info. Come check it out!
---
Summer 2021
6/24/2021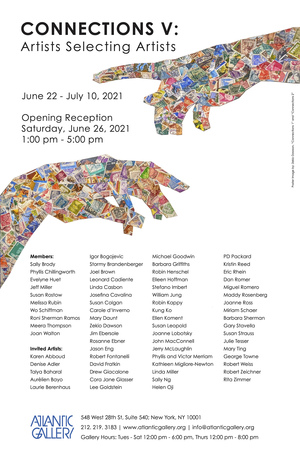 Summer 2021 - I'm so happy that NYC is slowly returning, and therefore was pleased that my friend Jeff Miller asked me to submit two small works to this "Connections" group show that opens this weekend! And, I can invite people! As many places are doing now, visitors who have been vaccinated are welcome to come and not wear a mask.

I'll have two framed gouache watercolor landscapes on display, please come see!. I'll be at the opening Sat., June 26th, from 2:30 - 5pm.

The Atlantic Gallery in West Chelsea, 548 West 28th St., Suite 540, in between 10th & 11th Aves. The show is up until July 10th, open Tues - Sat, noon to 6pm (thursdays til 8pm).