NEWS / EVENT BLOG ITEMS - Scroll down to view all
2/7/2019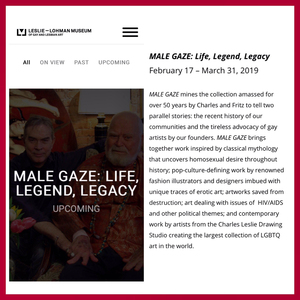 February / March 2019 - Happy to announce that I'll have an artwork in this show called MALE GAZE of art from the collection of the founders of The Leslie Lohman Museum of Gay & Lesbian Art ! Open to the public from 2/17 to 3/31 in the Wooster Street Museum space, full details at www.leslielohman.org (or click on the image to be linked).
---
February 2019
1/23/2019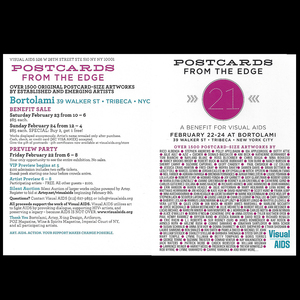 February 2019 - Save the date for the 2019 "Postcards From The Edge" Benefit weekend for VISUAL AIDS! As usual I've created a postcard-sized oil painting, as did hundreds of other artists... signed on the back so you have to guess who's is who's. This year it will be at a gallery down in Tribeca called Bortolami. The Preview Party (Friday 2/22, 6-8PM) is always a blast to see all the participants and all the work on the walls - so if you can make it, try to go then. If not, the sales happen the rest of the weekend on Saturday & Sunday... click the image for the website & all the info. Hope to see you there !
---
December 2018
12/17/2018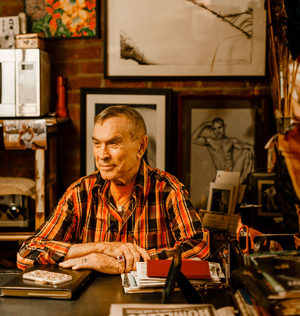 December 2018 - There's a very good and extensive article right now on "artsy.net" called "Inside the 'Phallus Palace, Charles Leslie's Trove of Queer Art"... over his shoulder in this pic from the article is a drawing he bought from me of model Giovanni in a jock (under a very erotic Andy Warhol Felatio-scene Print I cropped out for my social media posts). Charles is one of the people from my past most responsible for making me not shy away from presenting nudes or explicit content in my artwork, and he's one of the Founders of the Leslie-Lohman Museum of Gay & Lesbian Art here in NYC. Check it out!! (Click the photo to be linked to the article).

---
June/July 2018
6/20/2018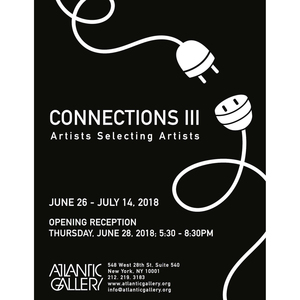 June / July 2018 - I'm happy to say I'll be participating in Atlantic Gallery's "Connections III" summer small works group show for a second year in a row! I'll have two small oil paintings, a portrait and a landscape, on display in this nice two week stint. Other artists chosen this year include some folks I know & love: Jeff Miller, Dan Romer, Jason Eng, Kung Ko, Kent Lau, Joseph Cavalieri, John MacConnell, Michael Letzig, Steven Broadway, and Richard Rosenfeld. There will be a cool opening on Thursday, June 28th from 5:30 to 8:30, and the show closes Saturday, July 14th. Would love to see you there!!
---
June 2018
6/16/2018
June 2018 - Happy to have had my artwork featured in a spread in the Amidacare Pride Magazine, they nominated me as an 'LGBT+ Innovator for Change'! Click on the Image to go to an online PDF of the whole magazine; my spread starts on page 14. Happy Pride month !!