NEWS / EVENT BLOG ITEMS - SCROLL DOWN TO VIEW ALL
1/26/2018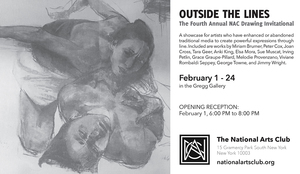 February 1, 2018 - Excited to have been asked to be a part of this group show of artist's drawings at the National Arts Club on Gramercy Park! Come to the opening for "Outside The Lines" next Thursday, February 1st from 6-8PM & check it out. 15 Gramercy Park South - show is up until 2/24 (click on the image to be linked to the NAC website for more info)!
---
January 2018
1/14/2018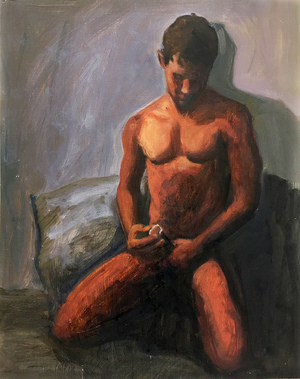 January 2018 - OK, so this is the artwork I did in the early 90s when I was real young that a friend had bought at the time, & I hadn't seen it since, but he donated it to the Silent Auction for the "Visual AIDS POSTCARDS FROM THE EDGE" show this upcoming weekend. It's an oil painting on prepared paper of an old fiend of mine from the ACT-UP days, Mark Allen. Context to note is that this was done before HIV retrovirals that now keep people alive existed, so the subject was him demonstrating how to put on a condom at a time people needed to know this more than ever. Also, although it was a dark room and I only blocked the face in, I always liked that I could tell it was Mark from the shape of his head, etc... Anyway, nice to see it surface again on a Chelsea Gallery wall & it will be on display at the benefir next weekend that I mentioned in the last post, and people from out-of-town can also place a bid online (click the image to be linked to the Visual AIDS online auction, powered by 'Artsy')!
---
January 19-21, 2018
1/3/2018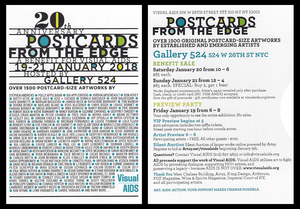 JANUARY 19-21, 2018 - I scanned the Front & back of this Invitation... once again I will be participating the the Annual Fundraiser for VISUAL AIDS called "Postcards From The Edge"! I'm doing a little painting on a postcard that will be available for purchase for first-come-first served the morning that sales begin, and special for this year... a friend who had purchased an oil-on-prepared paper painting oil sketch from when I was in my 20s has donated that piece for this year's silent auction... more on that when I know more, but click the image to be linked to the VA site, and hope to see you there!! Oh, yeah... and HAPPY NEW YEAR !!
---
December 2017
12/4/2017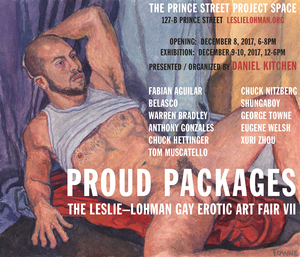 December 8-10, 2017 - An exciting weekend is ahead; I will have work on display and for sale at "PROUD PACKAGES: GAY EROTIC ART FAIR VII"! Mostly I'll be showing my erotic "life drawings" at a range of affordable prices, and I will have a few small watercolors with a good amount of detail (such as the one printed on the show's invite: 'Gabriel – Reclining Nude, White Tanktop') at a higher range, all prices tbd (come to the show to find out!). Also showing work are Fabian Aguilar, Belasco, Warren Bradley, Anthony Gonzales, Chuck Hettinger, Tom Muscatello, Chuck Nitzberg, Shungaboy, Eugene Welsh and Xuri Zhou. The event is presented and organized by Daniel Kitchen, the opening reception is Friday, December 8th from 6-8PM, and the show/sale continues on Saturday, 12/9 and Sunday 12/10 from noon til 6PM. This will be in the Leslie–Lohman Project Space: 127–B Prince St; click on the image to be linked to the Museum's exhibition page. Hope to see you there !!
---
November - December 2017
11/8/2017
Nov / Dec 2017 - Very pleased to say that GMHC has selected my portrait of Larry Kramer to be on the invitation to the exhibition of GMHC artists: "ART & AIDS: 35 YEARS OF SURVIVAL", to be held soon at the Leslie–Lohman Museum of Gay and Lesbian Art! Although the opening reception will not be for several weeks (Thu, Nov 30th, 2017, from 6-8PM); the show will be on view from Nov 15 to December 30th. Proud to be able to honor Larry, one of the founders of GMHC & of ACT-UP; still survibing and still a powerful community voice!

It will be a large group show with over 50 artists; and also selected I will have a Fire Island Ocean Landscape oil painting, and the watercolor used for the GMHC Holiday card (of a snowy Stuyvesant Square Park) on display. Save the dates, and please come see it if you can!

The Museum is at 26 Wooster St (just above Canal St in Soho, click on the image to be linked to their site), hours Wed-Sun 12-6, Thu 12-8PM, closed Mon, Tue, & major Holidays.